About us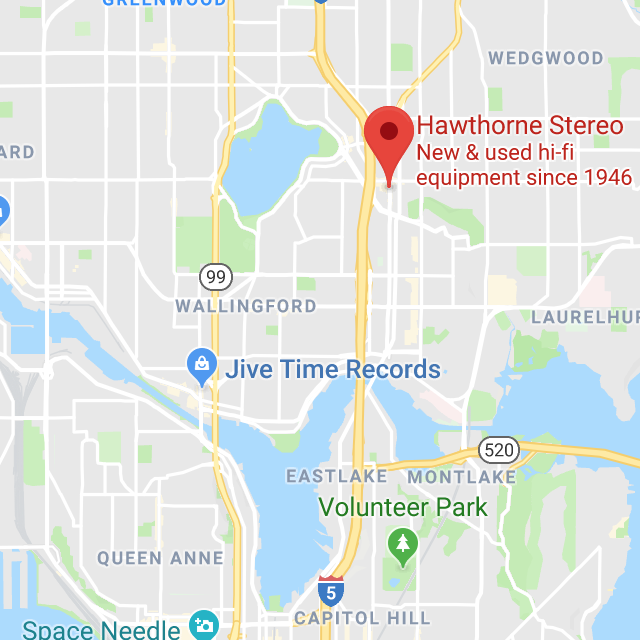 We are open in a limited fashion
Sunday; Tuesday-Thursday 12pm-5pm.
Friday/Saturday 11am-6pm.
We are CLOSED on Mondays.
What does limited fashion mean?
Wearing masks and following social distancing rules are absolutely required. We are limiting access to two people/groups at a time, and limiting group size to two people. For listening sessions and consultations, please make an appointment by calling or emailing us.
Online Order Pickups
No appointment necessary!
Once you have notification that your order is ready for pickup, come during store hours,
knock on the door, and we'll bring your order out.
Please bring a photo ID.
For Listening
We require you make an appointment ahead of time by calling us with some notes on what you'd like to hear.
We offer appointments Tuesday-Sunday, on the hour, at 12pm, 1pm, 2pm, 3pm or 4pm.
For Browsing/Shopping
An appointment is nice, but there is a chance we can get you in if you just drop by.
We have three rooms, and we are limiting each room to one person/group.
So if you just drop by and want to have a look, be prepared to wait outside,
especially during our busiest times (weekends, and weekdays 12pm-2pm).
For Repairs
If you have an item that we can repair, or want to pick up a completed repair,
you may come by any time we are open.
We have a cart outside our front door that you can set any items on,
then just knock on the front door and we will come out shortly to help you.
Please check our Service page or call/email us if you are not 100% sure that we can repair your item.
Email
[email protected]
Phone
206-522-9609
Address
6303 Roosevelt Way NE, Seattle, WA 98115
Closed
New Years Day, Easter, Memorial Day, July 4th, Labor Day, Thanksgiving, Christmas Day.
We close early on Christmas Eve and New Years Eve.
Social Media
Facebook
Instagram
Twitter