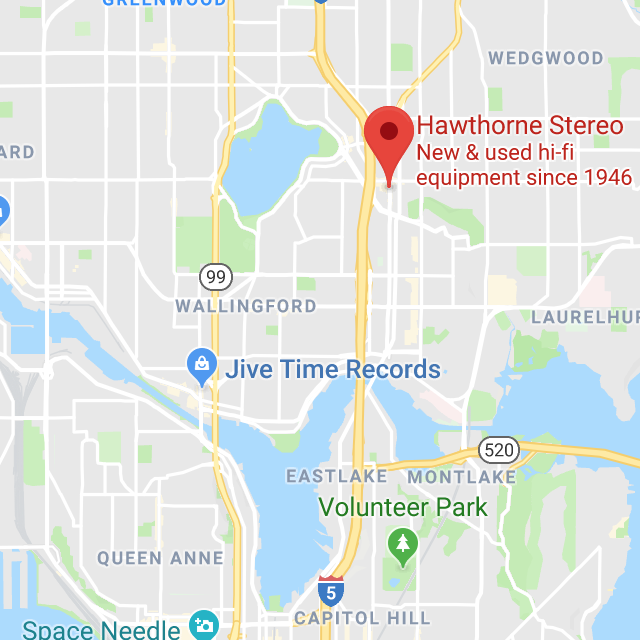 TEMPORARY HOURS:
STORE CLOSED FOR TWO WEEKS
Order online!

Phone
206-522-9609
Address
6303 Roosevelt Way NE, Seattle, WA 98115
Closed
New Years Day, Easter, Memorial Day, July 4th, Labor Day, Thanksgiving, Christmas Day.
We close early on Christmas Eve and New Years Eve.
Email [email protected]
Facebook @hawthornestereo
Instagram @hawthornestereo
Twitter @hawthornestereo
Update March 22:
Hello listeners!
Due to an order by The State of Washington, our physical store is closed to all customers, no exceptions.
We are not taking repairs at this time.
If you are interested in consigning something, email us.
We are happy to announce that we have launched a new website with online ordering, and are offering Hawthorne Stereo gift cards for 10% off until March 31! These gift cards are good in-store and over-the-phone, and will begin shipping out late this coming week.
The new website will be rolling out in phases. In short order, you'll be able to see pictures of all of our used gear and order directly from the site. We will also be rolling out many of our new products for immediate purchase!
You can also order over the phone or email, and we are offering FREE SHIPPING for almost everything, and 90-day exchanges for our Washington State customers.
We would love to hear from you and stay connected. We will be providing more updates as things change over the weeks to come. Stay safe!